How to make a Gumball Machine!
If you are a foodie like me and are always in need of chocolate then this life hack is definitely made for you. It is a diy candy dispenser that you can easily make it your home. There are lots of chocolate addicts in this world. And it could be a real problem if they don't get it chocolates. One such person is me, come on who doesn't like chocolate. So, to fulfil this need, we have invented candy dispenser that can give chocolates anytime anywhere. The most amazing thing about it is, it works automatically without any power consumption. The spring mechanism helps in shutting the door of the dispenser so there won't be any wastage of chocolates. If you want to know how to make this dispenser then keep reading.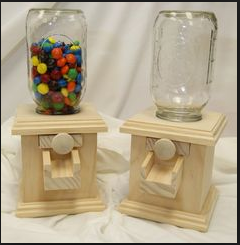 The main component of this diy chocolate dispenser is a jar. All the measurements and cutting are done according to the diameter of jar lid. You also require cardboard which has gaps in between so you can skew it with a long toothpick. First take measurement of the lid of the jar and make 3 sections of cardboard using that measurement, care must be taken that all three sections should be connected. Get that piece of cardboard and colour it according to your own satisfaction. After colouring is done let the colour get dried. Fold three sections at right angle such that all three sessions are making a box like pattern. Then glue the jar upside down at one of the end of this box.
Since we have taken measurement and made the box accordingly the jar lid will perfectly fit at the end. Get two cardboard pieces same as the diameter of lid and make one slit in each of them. Stick one of the peace to the jar lid and stick another piece to the box. You can also make an opening at jar bottom from where you can put candy's but this must be done under parental supervision. To get a detailed explanation of gumball machine please watch the YouTube video.